The uniform consists of several pieces:
Coat and sash
Shoulder cord
Pants (suspender-style)
Dinkles (shiny patent leather shoes)
Gloves (white)
Hat
The uniforms stay "on campus" at the high school; this allows us to keep them cleaner, which will extend the life of the uniforms. The uniforms are kept in a garment bag, labeled with the student's name. (Graduating seniors are given the garment bag as a momento).
Shoes, gloves, and black socks should be kept in a shoebag, and transported between home and school by the student.
We recommend a shoe bag ($10) and a second set of gloves ($3). A shoe bag will extend the life of the uniform garment bag. Gloves tend to get heavily soiled during games, so it's nice to have a spare pair in your uniform bag, in case you didn't remember to take the original set home to get them washed. Students with hair longer than the collar will need to pull it up under the hat. Doorags, hairnets, etc. should remain in their garment bag.
Your marching band deposit covers coat/sash/cord, pants, 1 pair of gloves, your assigned hat, and the cleaning fees for the coat and pants. It does not cover shoes, a shoe bag, extra gloves, and hair accessories that might be needed. New band members must purchase a uniform bag, shoes, and a shoe bag; these items can be purchased at the uniform fitting. Students must also have marching band practice tee shirts for all practices. Please pay with check payable to Highland Band Boosters. Include student name and # on all checks.
Prices are as follows:
Dinkles (shoes): $35. If your student needs shoes, they will be sized at their uniform fitting but they will NOT receive their shoes until September prior to the first uniformed marching show.
Practice tee shirts: $5 each
Gloves: $3. Each student will receive one pair of gloves (paid for in your uniform fee) and can purchase additional pairs for $3 throughout the season (from the really swell uniform ladies).
Shoe bag: $10
Uniform bag: $20
Doo-rag: $3 (this keeps longer hair contained under hat)
One of the following:
Black Slacks, Socks and Dress Shoes with White Blouse.
All Black Dress or Dress with a Black bottom and White top with Black Dress Shoes. (Black Nylons required.)
Black Skirt and Dress Shoes with White Blouse. (Black Nylons required.)
Please note the following:
No Flip Flops or Tennis Shoes of any kind.
No Large or Obnoxious jewelry.
Sandals must be dressy and black.
Black Slacks, Socks and Dress Shoes with a white button down the front dress shirt. (Long sleeve.)
Black Belt.
Neck Tie. (No Bow Ties or Obnoxious Ties.)
No Polo Shirts or Tennis Shoes.
Black Dress Purchased Through the School Organization. The cost for the dress is $75.
Black Control Top Nylons
Full Slip
Black Dress Shoes
White Tux Shirt
Black Socks
Black Dress Shoes
Tuxedo Jacket and Pants. These will be fitted and checked out at the beginning of the concert season. The tuxedo fee is $20.00.
Black Dress Slacks, Socks, and Dress Shoes
Dress shirt or blouse
Black Dress Slacks, Socks, and Dress Shoes
Long sleeve dress shirt & tie (No bow ties or hats) Sport coats are optional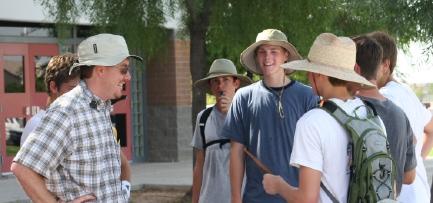 Mr. Bennett and students model proper dress for those long, hot practices in the summer Arizona sun. Good choices include:
a wide-brim hat
sunglasses
a normal, unaltered t-shirt or a more stylish light, collared shirt
shorts
tennis shoes that lace or tie (no flip flops, sandals, or unlaced shoes, because proper marching technique can only be learned with the proper foot wear)
Students must follow school dress code while in rehearsals.
Use broad-spectrum sunscreens whose active ingredients block UVA and UVB rays. The Sun Protective Factor (SPF) should be a minimum of 30.
Sunscreens should be used every day, including cloudy days. They should be applied liberally and evenly before going out into the sun and should be applied every 2 hours, especially after heavy sweating. Don't forget to do your lips, ears, scalp, hands, nose, feet and the backs of your neck and legs.
Bring plenty of water, and drink before, during and after your outdoor activity: 1-2 cups 2 to 3 hours before your activity, every 15-20 minutes during your activity, and after your activity. The following are warning signs of significant dehydration; they may also indicate more serious conditions like heat exhaustion and heat stroke, which require immediate medical attention.
Noticeable thirst
Muscle cramps
Weakness
Decreased performance
Difficulty paying attention
Headache
Nausea
Fatigue
Lightheaded feeling or dizziness
Speak up if you feel ill. Don't become a victim of the heat.